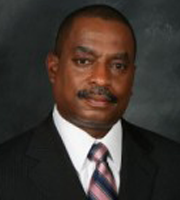 Leon Richardson
President of ChemicoMays
Leon C. Richardson was born in Hamtramck, Michigan, and was raised in West Haven, Connecticut. He attended the West Haven Public School System before moving on to collegiate programs and a military tour. Mr. Richardson served in the United States Marine Corps for eight years in the enlisted ranks as a Non Commissioned Officer. While serving in the Marine Corps and stationed on the East Coast, he enrolled in the University Of Maryland off campus program to pursue a Business Management Degree. Leon later relocated to Michigan and continued his pursuit of a Business Management Degree at the Detroit College of Business. Mr. Richardson has also completed several executive management programs at the Tuck School of Business at Dartmouth College and the Ross School of Business at The University of Michigan.
Soon after relocating to Michigan, Leon became involved with the automotive industry and its supporting supplier base. While at this company, Leon worked in the laboratory as a technician, where he quickly familiarized himself with organic chemistry and was mentored by very experienced chemists and engineers. After some time, he was reassigned to the production department, where he gained knowledge in chemical manufacturing. Once his training in the production department was complete, Leon focused on sales and marketing, where he excelled and became one of the leading salesmen for the company.
With the experience gained from several years working in the automotive industry, Leon decided to go out on his on. On September 13, 1989, Chemico Systems, Inc. opened its doors for business with Leon C. Richardson as President. Leon has led Chemico Systems, Inc. from a start-up company to one of the major suppliers of chemical products and chemical management services to several industries including automotive, bio-tech, and academia.
In August, 2006, Chemico Systems and Mays Chemical Company, another leading African American chemical company, created the joint venture, ChemicoMays, LLC. Combined the organizations have over 250 employees, operates 8 facilities in North America and Puerto Rico as well as a strategic alliance in Mexico City, Mexico with 4 additional facilities. Chemico also supplies goods and services throughout North and South American, Europe and Asia.
Mr. Richardson currently serves as chairman of the National Association of Black Suppliers, is a board member of both the Michigan Minority Supplier Development Council, and Co- Chair of the General Motors Supplier Diversity Counsel. He is also a former executive board member of Suppliers for the Environment (SP) and the Chemical Management Suppliers forum (CSP).
Chemico Systems, Inc. has been recognized with prestigious awards which include: the 2004 Regional Supplier of the Year by the National Minority Supplier Development Council, the Michigan Minority Supplier Development Council Supplier of the Year 2004 and 2013, The Diamond Award from Michigan Minority Supplier Development Council 2012 and 2013, "1 of 50 Companies to Watch in Michigan" award in 2006, the 2007 General Motors Environmental Excellence award, Toyota 2013 Kaizen award as well as the General Motors Supplier of The Year awards in 2009, 2010, 2011, and 2012.