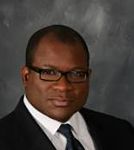 Hiram E. Jackson
Chief Executive Officer, Real Times Media
Hiram E. Jackson is managing partner and chief executive officer of Real Times Media, a multimedia company headquartered in Detroit.   Under his leadership the company, which is comprised of the nation's largest African-American owned and operated newspaper organization, a niche publishing arm and a digital archive of African-American artifacts, has grown to become a leading provider of original print content for African-American related news, entertainment and lifestyle information.
Prior to his appointment as CEO of Real Times in 2006, Jackson led Genesis Energy Solutions, a utility construction firm and Globalview Technologies, an international technology firm with revenues in excess of $80 million. The consummate entrepreneur, being both imaginative and intuitive, Jackson has also launched several other enterprises and joint ventures employing hundreds of employees throughout the United States.
Jackson's visionary leadership has gained him numerous acknowledgements and accolades. He has been profiled in several publications including Savoy Magazine, Diversity MBA Magazine and Black Enterprise.  Jackson has also been recognized as a top 40 executive under the age of 40 by Crain's Detroit Business and was named one of Michigan's most powerful African American leaders by Corp! Magazine.
In 2011, the General Motors African Ancestry Network (GMAAN) honored Jackson with the GMAAN Trailblazer Award for his vision to create a specialty publication acknowledging the monumental contributions of African Americans in the automotive industry. Entitled, DRIVEN: A Tribute to African American Achievement in the Automotive Industry, the publication also won acclaim at events such as the 2011 Trumpet Awards and the 2011 NAACP Image Awards. That same year, the National Association of Security Professionals saluted Jackson with its annual Maverick Award for being one of Detroit's finest professionals making a marked impact in the city of Detroit and beyond.
In addition to his leadership role at Real Times, Jackson sits on several Detroit area boards including the Detroit Zoological Society, the Charles H. Wright Museum of African American History, First Independence Bank CDC, the Detroit Branch of the NAACP, and the Boys and Girls Club of Southeastern Michigan. He also is a member of Governor Rick Snyder's Office of Urban and Metropolitan Initiatives Advisory Group.
Jackson is a graduate of Detroit Country Day School and The New York State School of Industrial and Labor Relations at Cornell University.  He is married to Kimberly Blue-Jackson and the proud father of Hiram Eric Jackson III and Gracie Blue Jackson.