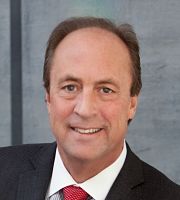 Mike Fezzey
President of Huntington National Bank, Southeast Michigan region
Mike Fezzey is the president of Huntington National Bank's East Michigan region. Prior to joining Huntington, Mike was the president and general manager of WJR-AM radio. In addition to leading WJR from 1994 – through 2010, he also launched and ran Radio Disney Detroit programming for ABC.
A native of Detroit, Mike's service to the community has been broad based with particular emphasis on improving the region's philanthropic giving and the image and reputation of SE Michigan. Past board service includes Cornerstone Schools, New Detroit, the Children's Center, Habitat for Humanity, The Detroit Economic Club, the Parade Company, For the Kids Foundation, Sweet Dreamzzz Detroit and Forgotten Harvest. He currently serves as Board Trustee for the Detroit Symphony Orchestra, and on the President's Advisory Council for Presbyterian Villages of Michigan.
Mike is the former chair of the Detroit Regional Chamber's marketing committee, and former president of the Detroit Advertising Association.
In his role with WJR, Mike earned the prestigious Peabody Award from the University of Georgia and the Neil Shine award for philanthropy in journalism. He and his wife were awarded the John Dingell Heroes for Babies award in 2010 and were the Michigan Arthritis Foundation's Tribute to Excellence honorees in 2011. Mike also holds an Honorary Doctorate in Public Service from Central Michigan University and was named a John Aldinger Honorary Professor by Michigan State University in 2008. Mike's many years of commitment to southeast Michigan and Detroit as a philanthropist, volunteer and community leader were recognized recently on a floor of the United States House of Representatives with a statement entered in to the Congressional Record.
Mike and his wife Suzy have three children.